There is no question that asian beauty is finally making a presence in North America. Beauty gurus are opening large boxes from overseas filled with never before seen products – concurring language barriers and discovering amazing end results.
Most mentions today goes to KBeauty or Korean beauty – renowned due to the Korean pursuit of baby skin and the makeup no makeup look. However, Japanese beauty products are the hidden gem (already highly praised in Asia) that deserves a lot more attention.
In Japan, a special drugstore is dedicated to beauty and skincare products with multi-level stores and rows upon rows of value products.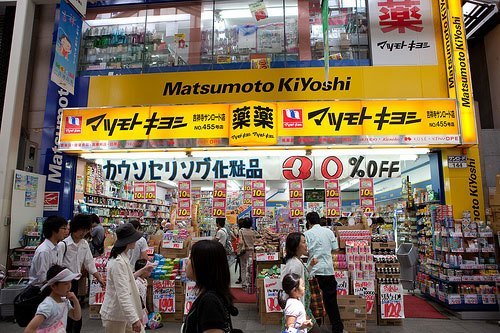 All the beauty drugstores will have a Japanese character on the store front that means "pharmaceutical". A testimony to the Japanese love of cosmeceuticals, a combination of cosmetics and pharmaceuticals. Every beauty product, including primers, foundations, even mascaras, have medicinal ingredients added to help improve your skin from the source.
Aside from effectiveness, you will also find JBeauty products for every imaginable need (including some very strange applications) and also super cute packaging.
Let's get started! All products mentioned can be conveniently purchased through Amazon in North America. Enjoy~
The lightest and moisturizing sunscreen combined with ultimate sun protection that you will ever find. With 5 star Amazon reviews, try it once and you will never think of sunscreen the same again. A product you can't live without!
The must-have affordable primer loved and recommended by students and beauty gurus alike. Does a wonderful job evening skin tones and even a better job in oil control.
If you are looking for an affordable, good looking, easy to apply, waterproof mascara, you need to try this product. You will have beautiful long, curly, and smudge proof (water or oil) lashes with little effort. The only downside? Have a good makeup remover ready because it is just so long-lasting.
Feel 18 again with this natural matte blush from the famous Japanese brand Canmake. I can't stop purchasing this if only for the beautiful packaging.
Vitamin C can help revitalize your skin and speed the repair process for scars and imperfections. This is an affordable CC essence that is light, smells amazing (like oranges!), and very effective.
A light toner that is pore minimizing, refreshing, and stabilizes problem skin. I love using this product after a deep clean to shrink pores or during acne prone time periods to calm my skin down. A must have for your emergency skincare routine!
The holy grail for acne care. Apply the cream to those pimples that appears out of nowhere or your problem areas and watch the magic happen.
JBeauty products take care of you in every aspect. This steam eye mask is a fan favourite, giving instant relaxation to your eyes without the hassle of a hot towel or steamer. Add it to your evening routine or bring a couple on a road trip, you will regret you haven't discovered this product sooner!
Please let us know if any of these products worked for you or share the JBeauty products you love! You can be sure we will write more about JBeauty in the future.